Sail the Wight 2009
Saturday 30th May 2009 dawned with brilliant sunshine, and a Force 3-4 ENE wind. 42 boats took part, with the majority of those cruising or racing around the Island, and some smaller boats opting for a Solent course.
A good run down the western Solent, most under spinnaker with a favourable tide took most boats down to the Needles in about 2 hours. Sea conditions were very smooth, until near the Hurst narrows, a Royal Navy frigate steamed past the fleet at a fair rate of knots, with a bow wave almost as big as the ship itself! The ensuing wash gave a taster of things to come out in the Channel....!
A good beat around the south of the Island, with that Easterly picking up to Force 5-6, and with wind-over-tide near St Catherine's Point, made for quite choppy seas!! Tacking back around Dunnose and into Sandown Bay calmed things down a bit.
The run to the finish up the eastern Solent had that tailing Easterly, and with a slight unfavourable current in the deep water, many boats came back close into Osborne Bay.
The evening social ensued, with good food and ale, and music by the "Contra Blues Band". Many red faces abundant after a day's sailing in the sunshine! A good time was had by all - afloat and ashore, and so far, the event has estimated to have raised £5000 for the Earl Mountbatten Hospice.
The Results are now available - click here.
Some photos of the event below. If anyone has any photos of the event they wish to share, please send them to the ECSC Webmaster.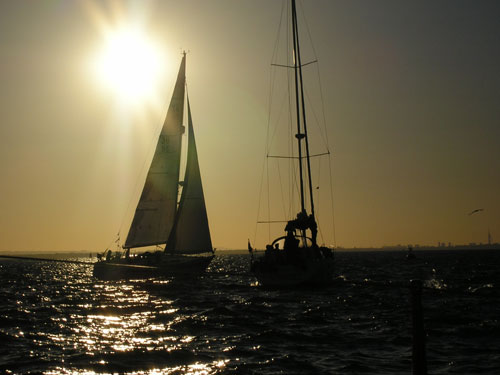 Before the start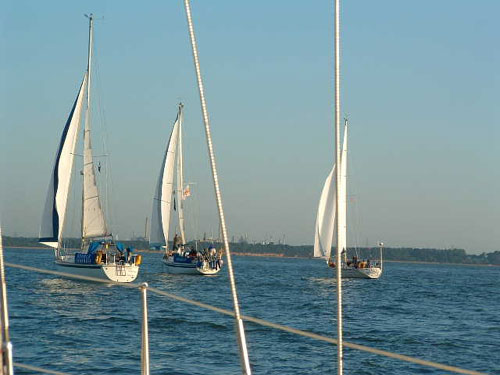 We're off!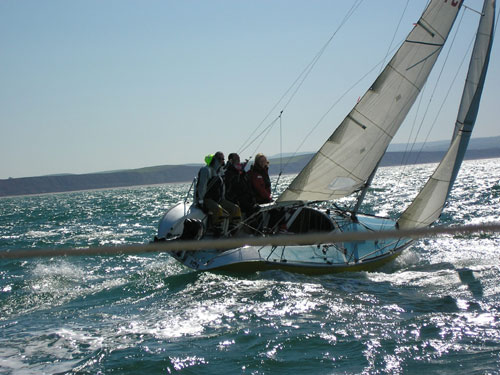 "Dementia" (Dave Hedgecox) in Brighstone Bay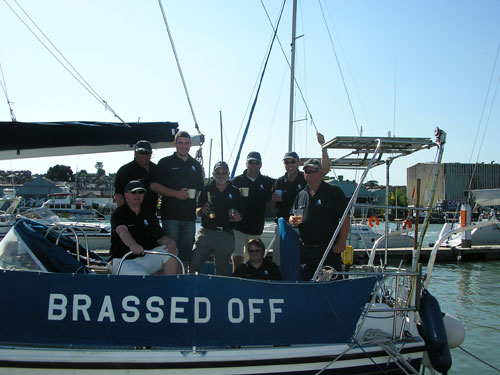 The crew of "Brassed Off" (Paul Walker) with David Cheek (3rd from left) of the Hospice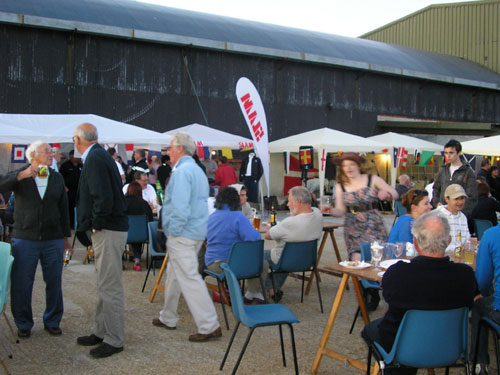 The evening social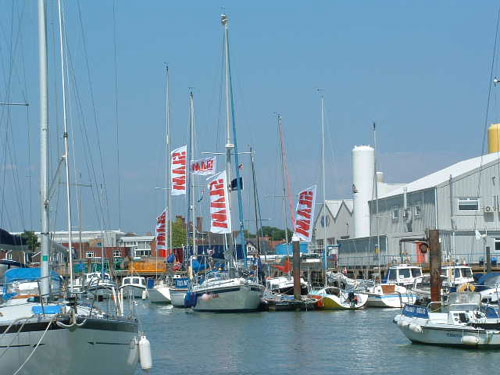 Some of the fleet home from the race
Link to the County Press report (Friday 5 June) here.
Al Blenkinsop
Rear Commodore ECSC